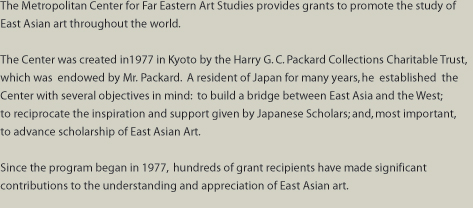 SPECIAL NOTICE:
The Metropolitan Center for Far Eastern Art Studies has extended the moratorium on its Library, Individual, and Institutional grant programs for a third and final year during the 2014-2015 academic year.

The Doctoral grant program will continue to make awards while the other grant categories are suspended. Applications for the 2014-2015 Doctoral grant program ONLY will be accepted by the December 31, 2013 deadline.

The full grant program will resume in the fall of 2014 with applications for the 2015-16 academic year due by December 31, 2014.

Recent Grants Recipients