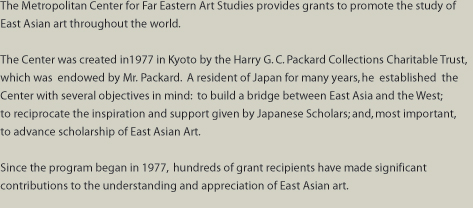 SPECIAL NOTICE:

The Metropolitan Center for Far Eastern Art Studies has reinstated its Library and Individual grant programs for the 2015-2016 academic year. The Doctoral grant program has also been renewed.
Please note that as of the 2015-2016 academic year, the Institutional grant program has been discontinued.

Applications for the 2015-2016 Doctoral, Library, and Individual grant programs will be accepted by the December 31, 2014, deadline.
Please follow the links above for more information on the various grant programs.


Recent Grants Recipients